richa rd ph i llips feynman
It doesn't matter how beautiful
your theory is
it doesn't matter how smart you are
If it doesn't agree with experiment
it's wrong

Manatthan New York 11 maggio 1918 – Los Angeles 15 febbraio 1988
surely you're joking mr feynman !
Dobbiamo immaginare come le cose potrebbero apparire da un altro punto di vista
Le cose di cui ci occupiamo nella scienza si mostrano in una miriade di forme, e con una moltitudine di attributi. Per esempio, se stiamo sulla spiaggia e guardiamo il mare, vediamo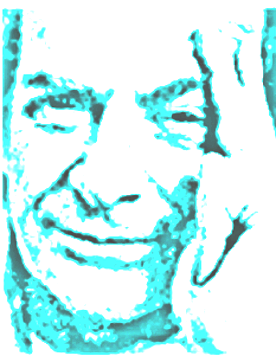 l'acqua, le onde che si infrangono, la schiuma, il movimento agitato dell'acqua, il suono, l'aria, il vento e le nuvole, il sole e il cielo azzurro, la luce; c'è la sabbia, pietre di varie durezza e stabilità, colore e consistenza. Ci sono animali e alghe, fame e malattia, e l'osservatore sulla spiaggia; ci possono essere perfino felicità e pensiero. Qualsiasi altro luogo in natura ha una simile varietà di cose e di influenze. E' sempre così complicato, in qualsiasi luogo. La curiosità pretende che ci poniamo delle domande, che cerchiamo di mettere le cose insieme e di capire questa moltitudine di aspetti come il risultato, forse, dell'azione di un numero relativamente piccolo di cose e forze elementari che agiscono in un'infinita varietà di combinazioni.
Il senso dI TUTTE LE cose
… Questa libertà di dubitare è fondamentale nella scienza e, credo, in altri campi. C'è voluta una lotta di secoli per conquistarci il diritto al dubbio, all'incertezza: vorrei che non ce ne dimenticassimo e non lasciassimo pian piano cadere la cosa. Come scienziato, conosco il grande pregio di una soddisfacente filosofia dell'ignoranza, e so che una tale filosofia rende possibile il progresso, frutto della libertà di pensiero. E come scienziato sento la responsabilità di proclamare il valore di questa libertà, e di insegnare che il dubbio non deve essere temuto, ma accolto volentieri in quanto possibilità di nuove potenzialità per gli esseri umani. Se non siamo sicuri, e lo sappiamo, abbiamo una chance di migliorare la situazione. Chiedo la stessa libertà per le generazioni future.
il senso delle cose - fb/rf
Il tema dei "culti del cargo" è stato anche il soggetto di un famosissimo discorso tenuto dal grande fisico e scienziato statunitense Richard Feynman all'apertura dell'anno accademico 1974 del Caltech. Feynman usò l'esempio dei "cargo cult" per discutere di pseudoscienze e di metodo scientifico: ancora oggi il discorso è considerato uno dei più chiari e appassionanti appelli ai valori dell'integrità scientifica nella ricerca applicata.
kappero.com

Weak Decay
Called a Feynman diagram, after Nobel physicist Richard Feynman who originated them, this drawing by Steve Gottlieb starts on the left with a B meson (B+). The strong force confines an up quark (u) and bottom anti-quark () inside the B meson, where they interact until they annihilate. "For a moment says Gottlieb, "there's a W boson (W+), carrier of the weak force. Then that W boson, because it's a virtual particle, decays to an anti-electron, also called a positron (e+), and an electron neutrino (_e)."
psc.edu
Nobelist Physicist - teacher - storyteller - bongo player
di se' diceva - sono Fisico premio Nobel - insegnante - cantastorie - suonatore di bongo
https://youtu.be/HKTSaezB4p8 - facebook.com/Richard.Feynman.Curiosity/videos - playing bongos
LIBRI
Genio - La vita e la scienza di Richard Feynman
biografia - "enfant terrible" del progetto Manhattan, massimo teorico della fisica quantistica, che al termine della sua vita e gravemente malato, scoprì le cause del guasto che aveva portato all'esplosione della navicella spaziale Shuttle.
libreriauniversitaria.it
HAWKING sulla meccanica quantistica
- Einstein ... sbagliò quando disse: Dio non gioca a dadi. La considerazione dei buchi neri suggerisce infatti non solo che Dio gioca a dadi, ma che a volte ci confonda gettandoli dove non li si può vedere.
- attribuita erroneamente anche a Richard Feynman
it.wikiquote.org
Richard P. Feynman

nobel lecture
I was delighted too when I heard about the Nobel Prize
thinking as you did that my bongo playing was at last recognised
nobelprize.org/prizes/physics/1965/feynman/lecture - feynmanlectures.caltech.edu - nobelprize.org/physics/feynman/speech - fb/nprize
It is in the admission of ignorance and the admission of uncertainty that there is a hope for the continuous motion of human beings in some direction that doesn't get confined, permanently blocked, as it has so many times before in various periods in the history of man.
the meaning of it all - p. 34
When a young person loses faith in his religion because he begins to study science and its methodology - it isn't that - through the obtaining of real knowledge that - he knows it all but he suddenly realizes that he doesn't know it all.
Scientific views end in awe and mystery, lost at the edge in uncertainty but they appear to be so deep and so impressive that the theory that it is all arranged as a stage for God to watch man's struggle for good and evil seems inadequate.
in any organization there ought to be the possibility of discussion... fence sitting is an art, and it's difficult, and it's important to do, rather than to go headlong in one direction or the other. It's just better to have action, isn't it than to sit on the fence? Not if you're not sure which way to go, it isn't.
By honest I don't mean that you only tell what's true. But you make clear the entire situation. You make clear all the information that is required for somebody else who is intelligent to make up their mind.
In case you are beginning to believe that some of the things I said before are true because I am a scientist and according to the brochure that you got I won some awards and so forth, instead of your looking at the ideas themselves and judging them directly--in other words, you have some feeling toward authority--I will get rid of that tonight. I dedicate this lecture to showing what ridiculous conclusions and rare statements such a man as myself can make. I wish, therefore, to destroy any image of authority that has previously been generated.
rpfeynman
.
When Richard Feynman's mother Lucille heard that her son, Richard, had been designated the Smartest Man In The World by a magazine, her response was :
Our Richie ? The world's smartest man ? God help us ! .

feynman.com
.
La mamma aveva un gran senso dell'umorismo e diceva che le più alte forme di comprensione che possiamo raggiungere sono la risata e la compassione umana .
da : che ti interessa di ciò che dice la gente ?
.
if computational systems are a natural consequence
of physical law then a quantum computer
is not only possible but inevitable
it may take decades perhaps a century
but a commercially viable quantum computer is a certainty
2think.org/feynman
ibs.it
Q E D
http://it.wikipedia.org/wiki/Elettrodinamica_quantistica
www.quantamagazine.org/why-feynman-diagrams-are-so-important
.
https://youtu.be/b240PGCMwV0 - The Key to Science
It makes no difference how beautiful your guess is
it doesn't matter how smart you are who made the guessor
what his name is. If it disagrees with experiment it is wrong .
cornell university 1964
https://youtu.be/eLQ2atfqk2c - QED PHOTONS
.
facebook.com/Richard.Feynman.Curiosity
the relation of mathematics & phisics
.
https://youtu.be/g975PfsgWdk - jiggling of atoms
www.youtube.com/watch?v=5VMu14mBXAs - QED LECTURE
https://youtu.be/6Rwcbsn19c0 - Challenger Crash O-Ring
.
www.facebook.com/Feynman.Curiosity - https://youtu.be/GNhlNSLQAFE
TAKE THE WORLD FROM ANOTHER POINT OF VIEW
.
www.facebook.com/videos - PROBABILITY & UNCERTAINTY
https://youtu.be/ZFmTy3HIh8o - i magneti
.
For a successful technology reality
must take precedence over public relations
for Nature cannot be fooled

The real question of government
versus private enterprise
is argued on too philosophical
and abstract a basis
Theoretically planning may be good
But nobody has ever figured out
the cause of government stupidity
and until they do (and find the cure)
all ideal plans will fall
into quicksand